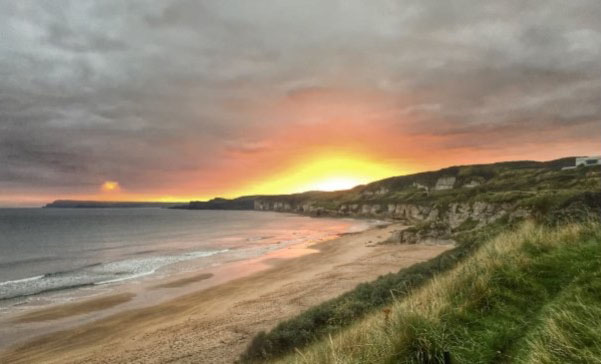 Life has begun to feel a little more normal again with the courses open, food and beverage open again, and I certainly have really enjoyed getting back out for a game.  
As the greens and tees were seeded prior to opening again for play, they took a few weeks to get back to the standard that we are all used to. It remained cold for longer than normal, so we have missed any substantial growth but thankfully we have some warm weather at last. 
Over the last 2 weeks the rough has begun to appear again which really gives the links the definition and character that it should have. 
The irrigation system been working brilliantly following the upgrade with only a 3 or 4 small leaks from heads, which was expected and easily fixed.


Greens 
We have been working hard to get enough topdressing on the greens to create a perfect surface, but slow growth meant that this has taken until mid-May achieve summer conditions. 
Firmness testing has shown a slight softening of the greens through spring, due to lack of foot traffic, combined with spiking carried out during the overseeding process in late March, the firmness has returned to the greens and it takes a well struck shot to stay on the green. 
This year we have used a different PGR (plant growth regulator) which suppresses the growth, especially that of the annual  

Tees 
Tees were overseeded in March and germination was successful, we top-dressed with sand and ideally, we will apply several dressings throughout the season. 
Several the tees on both links need to be stripped of turf and re-levelled during the winter, this is a normal process as, over the years wear and constant divotting leaves surfaces uneven.  
Ideally, we would strip the turf and re-lay but a contractor would level using a laser screeding machine. 

Fairways 
Dunluce fairways are in reasonable condition few weak areas, we have hired 2 additional divot staff which means that they are able to get around the Dunluce more often and there are less unfilled divots than last year. 
Greens 
The Valley greens are now on a par with Dunluce in terms of botanical composition and ball roll, fertiliser input, over-seeding and topdressings all mirror that of the Dunluce maintenance. 
We have purchased a new Toro electric greens mower which has several benefits, both from an operating perspective as well as an environmental perspective. Possibly the biggest benefit is that the machine has no oil, which peace of mind for us as an oil leak on greens can be devastating for the turf. We had 2 leaks on green surrounds last year on Dunluce and Valley 3rd holes and, in places the scarring can still be seen 12 months later. 
We would plan to change the other greens mower to electric in the next purchase of equipment. 
Tees 
The Valley tees are the same as Dunluce and should now cope much better with drought this year following the irrigation sprinkler upgrade. 
Steps to the 9th tee have been rebuilt, and ideally, throughout the course of the season we will be able to rebuild the others to complete the 9th hole. 

Fairways 
The Valley fairways are stronger than last year and we are using a better quality wetting agent to improve consistency and drought tolerance. There is however a small amount of rye and Yorkshire fog grass which is undesirable, it can be seen in patches or tufts on the fairways. We plan to start a little refinement work so members will see these little patches turning brown before disappearing. 
The sand scrape on the 12th hole is now complete and I believe that the area now is fairer than before, particularly playing the second shot from the left side of the fairway where it is impossible to see the ball land. This will hopefully assist in improving pace of play, while improving the hole aesthetically. 
On another note, there is a potentially serious problem within the industry now which is going to affect golf.  
The loss of insecticide to treat turf for leatherjacket and chafer grubs has been documented in golf articles recently. Potentially this could have a massive negative impact to the way we present our courses.  
We would have only treated greens and tees mainly over the last few years but now the only product available is a preventative product rather than a curative. 
It is on an emergency label, which means that it may not be available for very much longer. 
We can only hope that some level of permission can be granted but it is more likely that all products will be removed from the market. 
There is an argument that over use of pesticide has been part of the reason for the decline in bees but golf courses use these products on a minute scale in comparison to agriculture.