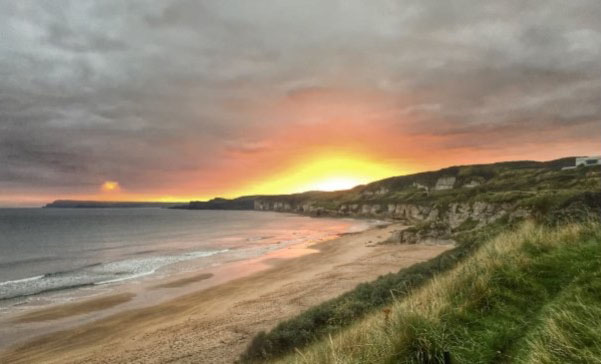 It has been a while since our last meeting of Links Committee and what a great summer we have had, it seems that the members have enjoyed being out on the Links with ….rounds played on the Dunluce links and …. Rounds played on the Valley Links. 
With the announcement of the Open Championship returning and next year being oversubscribed with visiting golfers there will be a real buzz around the club again. 
I hope that the members are pleased with the way the links has been presented this year, we have found ourselves juggling work to get everything completed and although we have been more fortunate than other departments, I can see some of the smaller details could be improved again. 
The tasks which have been missed are ones which the golfer doesn't maybe notice such as over-seeding weak areas, hand watering dry areas, treating fairy rings and cutting back bracken before it becomes an issue for golfers. 
Strimming, weeding and hedge cutting jobs were untidier than we would like before attention was given to them.
Dunluce and Valley Links
Greens
We are pleased with how the putting surfaces have performed this year, the fescue is strong, but pace has been more consistent with less peaks and troughs in terms of growth which effects pace. Annual meadow grass (Poa annua) is suppressed and there is more purity in the surfaces than I have seen before. Alistair Beggs suggested that the botanical composition of greens was now over 90% fescue, he was delighted with the surfaces. 
Having done some trials in 2020 I changed 2 products which we use on greens, wetting agent and a PGR (plant growth regulator) which inhibits vertical growth and suppresses annual meadow grass.  
On greens there is still a little damage from dollar spot disease which affects fescue, it has been less than previous years as we used the turf iron a little more this summer during warm, dewy mornings, where we experienced very little wind in July and early August. The surrounds and fairways have experienced more dollar spot that normal, but it is something that we may have to live with. 
Although it is done in other countries, it is not environmentally sound practice to spray fungicide throughout the golf course and we only spray on greens if it is an absolute necessity. 
We plan to over-seed greens in early October, Dunluce 4th & 5th and Valley 6th & 7th, so each of the courses will be closed on these days. 
We have engaged with a contractor based in Scotland who has the franchise for a machine called "Dryject" which uses high pressure water jets to inject sand in to the rootzone, leaving very little disruption to the surface. These channels of sand will be 5" deep, injecting ca.30 tons per hectare, 10 tons more than when we punch holes and over-seed. The dates set for the Dunluce greens are 15th & 16th November. 
This is a process which we have carried out in previous years manually brushing in the sand as Dryject could only be used with imported, kiln dried sand, but now allows us to use our own dune sand. Royal Troon Golf Club have had great success with this machine earlier this year.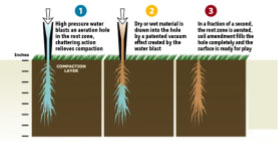 We have purchased some acelepryn insecticide to treat greens, tees, and some problem areas such as the down slope on the 17th fairway, it is more of a preventative treatment than a curative, but it is the only chemical now available for purchase. This will be applied in late October/early November.
Tees
Tees have also had a change of wetting agent and mowing heights have been reduced from 8mm to 7mm for most of the season and more recently we have maintained a height of 6mm, which has improved the presentation, if we were able to mow tees again with the pedestrian mowers next year this would improve further.
Fairways
The fairways generally have recovered well from divot damage seen through the drought period through July and early August.
The gather area below the 1st green is badly cut up again and so much divot filling occurs in this area it is doubtful that the ground is still the original intended shape. We see this in par 3 tees where years of divot filling changes ground levels, to the point that the turf must be stripped, and soil levelled. Some very modest reshaping here may allow for a better spread of divots and a wider collection area.
The 7th fairway has matured somewhat with turf recovery through gather areas far better than in recent years, but the 8th is behind in this regard.
Roughs
The roughs have become very penal again, the burnet rose is making areas of both links unfair, in that a rolling ball leaving the semi-rough can have an unplayable lie. Bob Taylor was over recently carrying out an ecological report and agreed that a 4-6M fringing rough should be sprayed.
The product is ordered, so hopefully we can complete this work this week.